Bonjour from Montreal! After a large, late lunch my family wasn't hungry enough for an actual dinner. Remembering a rooftop bar that we spotted earlier we decided drinks and a small bite of something would be perfect.
Enter Terrasse William Gray, located in Old Montreal, which was unknowingly in the same hotel where we ate breakfast this morning (future review pending). The waitress said they just opened about a month ago.
While my family compared notes on their mutual fear of heights, I admired the view. On one side we could see the river, and the other overlooked a beautiful square with the Palais de Justice.
Cranberry juice in a fancy glass. #adulting
They had a handful of real meal options – steak and the like, but we wanted something smaller so we got a charcuterie board to share. It was tasty, although it would have been improved with some cheese.
My dinner was a brownie. It was served with candied almond slivers on top, and chocolate sauce with chocolate crispy balls. Basically it was just as good as it looked.
I don't normally rate bathrooms when I'm writing these reviews, but I am making an exception this time. Why? Because I am always complaining about how dumb it is to gender single stall bathrooms. Why should I wait in line to use a toilet that has arbitrarily been marked female when there is an empty male single stall bathroom that is free? Answer: I don't, I just use the men's (which is technically illegal in my state…).
Terrasse William Gray had four single stall bathrooms and they were ALL UNISEX. Not only did this eliminate wait time, but this is great in terms of being inclusive to people who don't fall into traditional gender norms. A+ Terrasse William Gray.
So, knowing I would be writing a review, I pulled my camera out of my bag while I was waiting for my Mum in the hallway to take a picture of the unisex sign. Just as I did this, a man walked around the corner (a kind of cute man who looked vaguely like Davey Havok). He glanced at my camera. He glanced at me. Then he said something in rapid French that I didn't catch, but probably wasn't anything good. Slowly, he went into a stall and closed the door, continuing to make eye contact the entire time.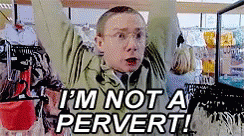 After this instance, I stubbornly took my photo because if some French Canadian guy was going to think I'm weird, I was at least going to get my blog photo.
Aside from being judged by a Canadian guy, I really liked Terrasse William Gray! The food was good, and the atmosphere was laid back yet sophisticated. Also the waitresses had adorable uniforms that looked like something out of Taylor Swift's closet – sky  blue tops with white collars and dark blue shorts.
My favorite part was looking over the city and its lights. What a view!
Stay magical readers!
Related posts: