When I first heard the premise for Jane the Virgin, I rolled my eyes. A virgin woman accidentally gets artificially inseminated? It sounded like it would try to be funny by poking a lot of fun at someone for still being a virgin (by the way can media stop treating virginity like a deadly disease that needs to be cured as soon as possible? #soapbox). I'm so glad that a friend's positive review (and the fact that it was available on netflix) changed my mind about giving this show a try.
Yes, the plot is sparked by a virgin woman getting artificially inseminated. BUT while virginity and sex are discussed, they are handled in a positive way. Different characters are shown making different decisions and, more often than not, being supported for their decisions. Instead of a show that sexualizes women for comedy, the show has a diverse range of women all of whom are strong in their own way, but are also complex people. Also, you want POC women? This show has got them front and center. And their heritage is not dismissed, it plays a large role in their characters and lives, but it's also not the only focus for their characters. It's fantastic. Jane and her mom and grandmother are amazing. They don't always see eye to eye and sometimes fight, but they are consistently a team who supports each other.
Yes, the premise of the show works. Why? Because the show does not try to pretend that this is a realistic scenario and that just could happen to everyone. It completely embraces the ridiculousness and takes all the campy telenovela/ soap opera stereotypes and pushes them to the extreme. It's super hilarious and so much fun.
My favorite character: the narrator. There's a narrator and it's kind of like watching with a friend who is obsessed with the show. He periodically freaks out about stuff and breaks the forth wall. His commentary is fantastic. In one episode Jane learns what the Bechdel test is and the narrator spends the rest of the episode rating the scenes by if they pass or not.
There are also so many great side characters. Too many to list.
In addition to all the baby stuff, there are multiple other plotlines running because all of these characters have their own lives and messes going on. Jane's father is a telenovela star and he is so dramatic it's incredible. And in addition to a plethora of female and poc characters, there is also LGBQT representation. Basically, like the classic Disney commercials would always say "There's something for everyone!"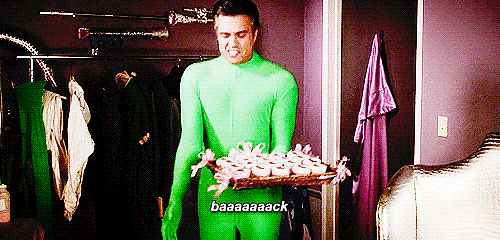 If you're looking for your next binge watch, look no further. Go out and give this wacky show a chance!
Stay magical readers!
Related posts: